PURCHASE TICKETS
Purchase event tickets through EventLink.
---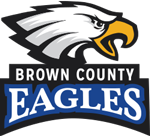 Be a Brown County Eagle and be Eagle proud.
Research shows us children who participate in middle and high school sports are better at setting goals, generally have more confidence, self-respect and leadership skills and are more likely to earn a college degree.
Please join us in supporting our team players, contenders, winners, record breakers, state qualifiers and champions. Brown County athletes train hard, leave it all on the court, track, field, course and mat and make us—and themselves—proud.
---
FALL
2nd-12th CROSS COUNTRY (CO-ED)
5th-12th VOLLEYBALL (G)
7th-12th FOOTBALL (B)
7th -12th SOCCER (G & B)
7th-8th TENNIS (G AND CO-ED)
9th-12th CHEER (CO-ED)
9th-12th GOLF (G)
9th-12th TENNIS (B)
WINTER
5th-12th BASKETBALL (B & G)
7th-12th WRESTLING (B)
9th-12th DANCE (CO-ED)
9th-12th CHEER (CO-ED)
9th-12th WINTER GUARD (CO-ED)
SPRING
7th-12th TENNIS (G)
7th-12th TRACK AND FIELD (CO-ED)
9th-12th BASEBALL (B)
9th-12th GOLF (B)
9th-12th SOFTBALL (G)
9th-12th UNIFIED TRACK (B)
9th-12th UNIFIED TRACK (G)
---